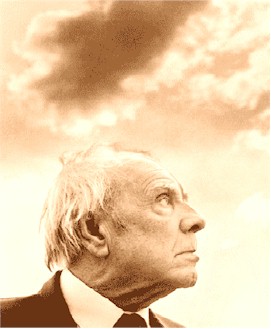 Borges' first book was was a dabbler's (and a cobbler's) collection of biographies- like Roberto Bolano's "Nazi Literature in the Americas", but based on real people and real texts- yet sort of made up anyway. Too "shy" to write his own stories yet, he built them on solid sources. I'm reminded of my tentative process with Dumas' novel. Not that I would place my name and the illustrious Argentinian's on the same sentence- as indeed I haven't here.
Below are quatrains that will remind me of Borges' stories.
THE CRUEL REDEEMER LAZARUS MORRELL
Lazarus says: "For twenty bucks
I will remove your chain,
And for a mere twenty more
I won't put it back on again."
THE IMPROBABLE IMPOSTOR TOM CASTRO
If I was an impostor
I would have tried to look like me
But I look nothing like who I say I am
So that's who I must be
THE WIDOW CHING-PIRATE
The pirate widow saw dragons
Lazy flocks of fiery kites
I guess she'll see the burning work of her soul
One of these Eastern nights
MONK EASTMAN, PURVEYOR OF INIQUITIES
There's forty-nine nicks in Monk Eastman's cane
And tonight he's acting shifty
He'll let your brains run in the New York rain
To make an even fifty
THE DISINTERESTED KILLER BILL HARRIGAN
Cool killer Billy the Kid
Would shoot a man just for kicks
Killed twenty-one before he was twenty-one
Not even counting the spicks
THE UNCIVIL TEACHER OF COURT ETIQUETTE KOTSUKE NO SUKE
Forty-seven ronin
Died upon the spot.
Would you die for honor, mister?
I think not.
HAKIM, THE MASKED DYER OF MERV
My visions tremble like the virgins around me
My body is crumbling and my flesh begins to flee
My face is white but it's not white with holiness
It's white with leprosy.