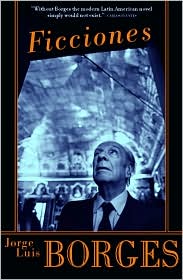 In gem after gem, Borges spins ideas into tales, and I see now that while reading him while too young may not allow one to fully appreciate what he was creating, it does prepare one for thoughts unchained by convention. This may be the reason why imaginary flights seem normal to me while many of my friends have their minds just about BLOWN by the slightest deviation from the bureaucratic rules of earthbound existence ("Oh, man, so in this album, like, the band is pretending to be playing these rock songs they found in a Roman ruin, and in the final four-movement-prog epic, you realize it was all the dream of the last descendant of an alien civilization! TRIPPY!")
So maybe reading Borges at a young age was a blessing, and advisable, and the reason why I'm more likely to react to a Charlie Kauffman script as "Interesting!" than "WEIRD!!!".
Most people come to Borges by way of "Tlon, Uqbar, Orbis Tertius"- I did. As far as my observations go it's the most anthologized of his stories and preps you for his erudite games. Looking for a half-remembered quotation about how "mirrors and copulation are both abominable because they multiply mankind", the narrator finds himself questing for an elusive article in the "Anglo-American Cyclopaedia", which in turn leads to the invention and imagination of an entire alternate civilization. Borges creates a new planet, which- I realize as I write this- should lead to a tweaking of his quotation: "mirrors, copulation, AND LITERATURE are abominable because they multiply mankind." The world is overpopulated enough without Huck Finns and Jean Valjeans and Becky Sharps and, while we're being gauchos, Martin Fierros, no? Of course, in a certain mood, many dreamers like us would give breathing preference to these non-existent people than to that very real dickwad who took our parking space and flipped us his triumphant bird.
To select stand-outs in the "Ficciones" is pointless and would involve the dull reproduction of the index. I do particularly love "Three Versions of Judas". Reading Andrew Hurley's translation makes me realize the same thing I realized in my recent (interrupted) reading of Roberto Bolano's very Borges-influenced "2666". SINCE I CAN, I SHOULD READ THE SPANISH ORIGINALS. (Waiting for the Spanish "2666").
Hurley's translation is fine but it feels starchy- and it misses what a FUNNY writer Borges is. Do English-language readers realize that many of his stories are knowing, subversive parodies of the overwrought, pretentious, allusion-heavy style that was honored as literature in South America in the first half of the 20th century?