"Dollhouse"! Creepy mannequins on Episode 3. Sierra (Dichen Lachman) gets her shining moment on Episode 4. There have been enough "Battlestar Galactica" guest appearances to appease the nerdiest fienders: Jamie Bamber- APOLLO!- was in Ep. 2, and Michael Hogan- COLONEL TIGH!- on Ep. 3. What do you need to tune in? Freaking Edward James Olmos? This season is looking good, people!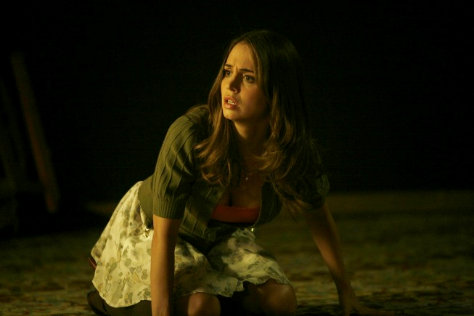 Bah. You've all moved on. "Dollhouse" goes largely unwatched. It's still waiting for an unthinkable FIVE votes before it gets a rating on IMDB. There will be no eps during sweeps. (That's like being locked in the broom closet at the orphanage the one day prospective parents visit.) (It's also like watching a quarantined patient make a full recovery right after the doctor retreats screaming: "It's hopeless, just seal the ward and gas everyone in it!")
This is TV tragedy in the making! The scariest thing happening this Halloween!
Ah, well, I tried, Joss. You gave me some of the best years of my TV-addicted life. I talked up your show as best I could. Felt like the right thing to do. We cool, right?