I suppose many of us were surprised by our (sappy) reaction to
Michael Jackson's death.
It was like the loss of a gigantic architectural landmark one's learned to ignore- or gleefully graffitti- with time. The day before it happened, not many people would have thought of him as a loveable, unifying figure ("surgical freakshow" was closer to the consensus). But we were shocked indeed, and there's that Grammy tribute from the other night and stuff like Kenny "Celebrity-Lamprey" Ortega's "This Is It", to cash-in on/ satisfy the mourners.
And it CAN be satisfying- with caveats. It IS thrilling to see Michael going for Rita Hayworth, injecting new 3-D life into "Thriller", or indulging any number of his millionaire dreams at the Staples Center in L.A.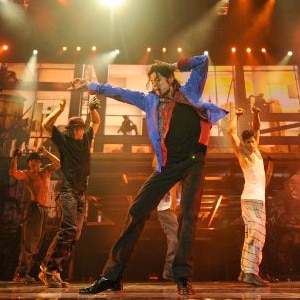 But for all the musical wealth, this is a rehearsal, and it only functions as an emotional stop-gag, or a teaser to a show that will never happen. It promised to be a hell of a spectacle, but when was that unusual for Jackson? What you get is a souvenir from a funeral- and it's not even that ghoulish. "This is It"'s saddest shock comes from its joyful vitality. Jackson is NOT a drug-addled puppet being wheeled onto the stage. There is simply no omen to be found- and eyes will strain looking for it. He didn't know he would die soon, in the same way you or I don't. That's scary, and it's not comforting. Audiences find some measure of logic in warnings; say, Heath Ledger's over the top Joker performance, or the ghastly hints of death in Terry Gilliam's "The Imaginarium of Doctor Parnassus." Accepting that sometimes (frequently!) death is unheralded is so counter to our ideas of a well-crafted universe that should I get run over by a bus tomorrow, someone would read this post and say: "WELL, he WAS talking about death; it's like he KNEW it was coming."
It's seldom that easy.
Watch "This Is It", by all means- if you're a huge Jackson fan, you already have. But if you fall on the mid-tier, you might be tempted to quote the Strokes.
My favorite Jackson song- this week.