According to the deeply cohesive mythos of 1989's "Puppet Master," there is one question that has haunted Pharaohs, Nazis, Gypsies, Hoteliers, Anthropologists, and Libidinous Parapsychologists since the dawn of time:
"Is there anything scarier than tiny little puppets?"
The answer seems to be:
"Sure. Malfunctioning elevators, unwelcome dinner banter, and fashions that mark that awkward phase when we were heading out of 'Miami Vice' and entering 'L.A. Law.'"
I mean, they're TINY LITTLE PUPPETS! You can step on them or kick them across the room while they try to give you splinters in the shins.
"Puppet Master" is lovable, though, the sort of B-flick
"House of the Devil"
looks backward on. And what a cast! (Not the humans- who all look like porn industry rejects.)
I'm talking Blade, Pinhead, and Tunneller!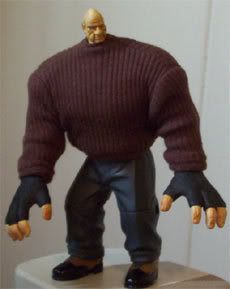 Worth the three cents of admission: the big scene with Leecher, a sexy puppet girl who, inexplicably, vomits leeches out of her cute little wooden mouth onto a naked (male) scientist's nipples.
Don't ask.