ABOVE: There are pictures of prettier people below.
I made Dave Alvin's acquaintance in a Season 2 episode of
"Justified,"
rocking the sawdust right off a country bar. "Justified" is set in Harlan County, Kentucky, famous for the miner's strike documented in Barbara Koppel's Oscar-winning "Harlan County USA," and Alvin's recent album "Eleven Eleven" opens with
"Harlan County Line."
See the connection?
You can tell the territory Alvin travels: this is roots rock with a conscience, tales of people whose hard work was repaid with miner's lung, of common folks beat up by circumstances, of desperadoes boasting against their encroaching doom. Stompers like "Johnny Ace is Dead" and "Run, Conejo, Run" alternate with a "guilty woman" ballad like "Black Rose of Texas," or with the plaintive Texano cry of "No Llores Mija" (a song that dares to understand why a border-crossing drug dealer might do what he does.) There's also room for a genial blues work-out like "What's Up with Your Brother?" If you want to hear a grizzled troubadour righteously rock a saloon, "Eleven Eleven" is it.
You know what else is IT? "Justified" of course! The first season was fine, but it's season 2 that announces a show every bit as good as
"Sons of Anarchy"
and far more enjoyable than some overrated critical darlings I won't mention lest Marshal Raylan Givens go out and shoot their asses off the air. As Raylan, Timothy Olyphant is still the man. Although the unpredictable Boyd (Walton Goggins) is still giving him headaches, Raylan has put away most of the Crowder family, but now he's up against the similarly predatory Bennet clan. Can't keep the bad weeds from sprouting. I don't much follow awards shows, so I have no idea if Margo Martindale won an Emmy for her amazing performance as matriarch Mags Bennet. I think she did, and I KNOW she did IN MY HEAD, and if "Justified" had been a feature film, she would obviously deserve an Oscar as well.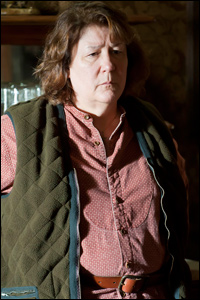 ABOVE: Believe me, when this lady is getting a picture way above Rebecca Creskoff or Natalie Zea, it's because she's AWESOME.
Mags rules Harlan County, lovingly adopts a girl named Loretta (after murdering the girl's father) and keeps her three "boys" in line, sometimes by breaking their fingers with a hammer. Spare the hammer, spoil the hillbilly. (Of note: Jeremy Davies, from "Lost," as one of her sons. Davies always plays the same twitching weirdo but is so good at it I don't blame him.) Mags also goes up against the Black Pike mining corporation, which is bent on controversial mountain top removal procedures. (Also of note: Rebecca Creskoff as a steely corporation representative who is so hot I might have to check her out in that "Hung" show that no one I know has ever seen. Or at least won't admit to having seen.)
ABOVE: She can remove my mountain top anytime. I had a really hard (and enjoyable) time finding pictures of Rebecca where she wasn't naked, and that's how you know she's a fine actress.
With a rival like Mags, what's Raylan going to do? Mostly freak out while his ex Winona (Natalie Zea) tries for another divorce and, oh yeah, steals thousands of dollars from an evidence locker. In Season 1 Winona was there to remind us Raylan wasn't into any "Deliverance"-type deviation, but here she finally becomes a character worth caring about. Unfortunately this comes at the expense of the show's other pretty lady, Ava Crowder (Joelle Carter) who would be fully justified in shooting the writers for neglecting her entirely.
Ha! I said JUSTIFIED! See what I did there? It ties it all together! That's a little writing trick for youse all folks.
ABOVE: A visual representation of the differences between Winona and Ava when Season 2 plotlines were handed out.