That's problem #1 right there: The big-little-flop-that-couldn't should have been called "John Carter OF MARS!" No one knows who John Carter is. No one knows who John Clayton is, for that matter. (That would be TARZAN, Edgar Rice Burroughs' other grand creation. If I make a new Tarzan movie, I wouldn't call it "John Clayton". It would be TARZAN OF THE M*****F****** APES!!!)
ABOVE: JOHN CARTER OF MARS!!!
Certain camps have been extra generous with "John Carter" and blamed it all on Disney's marketing and the bad buzz of its reported of $300 million budget. They showed kindness because of ecause of pulp nostalgia, because Andrew Stanton made the universally beloved "Wall-E," because Michael Chabon had a hand in the script, (not that you would notice) and because it's not a terrible movie.
But it's an underwhelming one, and a disappointment, and it has too many problems.
Problem # 2 is that they didn't get the BURROUGHS spirit right. The Barsoom adventures were EXCITING and TITTILLATING, with an emphasis on the TITTY. There was also lots of male nudity. ERB could not find enough excuses to get his characters, male and female, as naked as possible: "What's that, ma'am? Your skirt got a stain from the Barsoomian drool monster? Might as well get rid of it!" "Sir, you say nakedness is better for leaping with low gravity? Let's get rid of these stodgy pants!" It was the primal, physical, sexual, raw atavism that made his escapists stories so thrilling. It wasn't about mythology, it was about action scenes: a naked guy wrestling down giant monsters while a kidnapped, equally naked girl waited to reward her hero.
But they HAD to make it about mythology.
Problem # 3: That mythology is convoluted, old-fashioned and uninteresting. Sub-AVATAR. For all of Avatar's verbal lameness, that WAS a beautiful world. More importantly, a COLORFUL world. Wasn't Mars- pardon me, Barsoom- the RED PLANET? Full of canals and craters? Why is the sky so blue? Why does it looks like Arizona?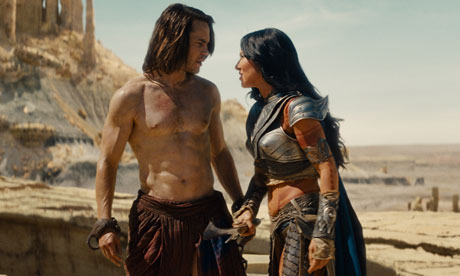 ABOVE: "This is Mars? You sure? Not Earth. Mars. Ok I'm just checking."
Problem #4: The actors. I love "Friday Night Lights" but Taylor Kitsch brings no charm to this movie, there's no wink in his eye that says "GOLLY GEE, I was in Virginia and now I'm IN MARS! Now let's get me a PRINCESS!" That princess, Dejah Thoris (Lynn Collins) was supposed to be a very sexy and compelling character, remember the first book was called "A Princess of Mars", but here she's on the PC side trying to be some sort of chaste,dignified, feminist Pocahontas. Have we gotten so absurdly reverent that we are trying to present a sensitive, non-offensive portrayal of MARTIANS? Go watch "Flash Gordon"- THAT ludicrous movie understood pulp. And just because I love "The Wire" doesn't mean that Dominick West does much here. And I love "Breaking Bad" but Bryan Cranston is absolutely unnecessary in an overly detailed prologue.
Problem #5: Those overly detailed, confusing PROLOGUES. There's not one, not two, but THREE of them before we actually get to Mars, which is the actual trip everyone signed up for. What should have happened in five minutes happens in twenty. The prologues in the books were just a conceit to explain how a man could travel to Mars (Burroughs wasn't interested in spaceships or the mechanics of travel, he wanted to get to the fights.)
Dear John Carter of Mars, this would-be franchise failed. Sorry.
Noobs to the John Carter of Mars or Edgar Rice Burroughs:
Watch this quick clip. Beware, it makes the movie sound much more amazing than it actually is.